The Urban Garden in the heart of Bournemouth
First impressions as you enter this little oasis in the heart of Bournemouth gardens is a real, 'wow'! The setting is fabulous. Tastefully and informally layed out multi level terrace gardens with lots of individual and different seating areas. Very cleverly designed and thought out. Love the quirkiness to it!
We immediately decided that this would become a regular haunt and a great place to hang out with friends and pass a lazy afternoon or evening. We bumped in to close friends whilst there who were already on their 2nd visit, despite the venue only having been opened 3 days ago!
The menu offered a wide selection of dishes, from day time snacks to main menu options and prices seemed to offer value for money
I ordered a salad bowl of avocado and chicken. I made a request to have some extra salad dressing and the waiter couldn't have been more helpful and supplied a vinaigrette and some balsamic and olive oil…super tasty!
My husband ordered cray fish and prawn ciabatta with Mary Rose sauce which came with crisps and a green salad. He was suitably impressed, which is saying something as he's a former contestant of BBC's Master Chef and knows his stuff!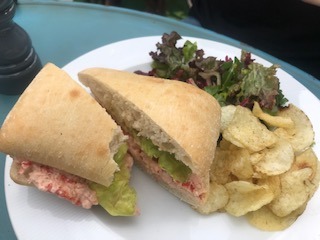 The inside bar area was incredibly stylish with a city living vibe. It was pretty cool!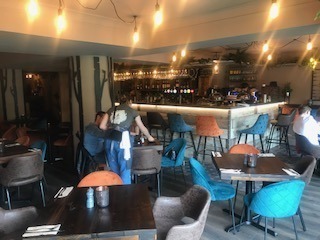 Even the wash rooms were impressive and worth a visit! 🙂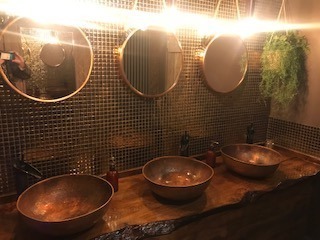 We are already planning our next visit with friends and are sure that Urban Garden will be a massive success throughout the whole year. A place for locals and visitors alike. A hugely recommended 'breath of fresh air' destination, especially when compared to the bland, homogeneous high street chains, located not far from The Urban Garden. A real showcase venue for Bournemouth that is bound to go down a storm!
Special mention must go to the staff too who were all super friendly and keen to make everyone very welcome and make sure that they enjoyed their dining experience #Foodieheaven #Location #Location #Location