The 51st Southampton International Boat Show, powered by 'Borrow A Boat', takes place at Mayflower Park, Southampton from 13 – 22nd September 2019. The sun certainly came out for the Show's launch and the first weekend was a scorcher with thousands visiting. The UK's largest boat show proudly boasts that it offers something for everyone, from first timers to seasoned sailors the opportunity to indulge their passion for time spent in, on and around water. The Show provides a major boost for both the local and wider marine economies and it was reported that this year the organisers welcomed over 600 global marine brands across the entire marine sector, from sailing equipment, clothing and more, as well as over 300 boats to see on the purpose-built marina. The Show was officially opened by British Olympic gold medallist rowing champion, James Cracknell OBE and TV personality and fitness entrepreneur, Lucy Mecklenburgh.
Coleman team enjoying connecting with clients, friends and partners
Coleman Marine Insurance had their team out in force at the show, meeting up with clients and forging lots of new relationships within the industry.
Steve Risk MD of Coleman Marine advised, "The timing of the Show is excellent for us as it allows us to meet our Clients to ensure that our relationships remain strong and it allows us to update our Clients with regard to the recent very positive news of our being acquired by Gallagher and the numerous advantages being part of such an excellent Company brings. But above all of this the Show allows us the time and opportunity to spend time with our Clients to listen about what is going in their worlds and the opportunities and challenges in the future."
Yacht & Commercial Craft Development Executive Tony Pauffley added, "The fabulous weather has inspired lots of visitors to come along. We are delighted to be back at the Show, which we've been attending for many many years now. At a time of political uncertainty, it's been great to hear so many people talking about 'just getting on with it, having a positive outlook'. There have been lots of new innovative product launches at the Show and it's been great reconnecting with so many of our friends within the marine industry."
'most advanced hybrid boats…'
Coleman Business Development Executive Dean Shaw met up with client Matthew Attree, Director of Clipper Marine UK & Spain. Matthew commented, "Southampton Boat Show is historically an extremely important event for us. It always generates a big portion of our year's business and sales are made. One of the best years that we had here, we sold 31 boats. This year we are showcasing our new C50, 50 ft Bavaria cruiser sailboat, along with a first time show appearance of the Greenline Neo and Greenline 48. We are expecting lots of interest with these boats. They are the most advanced hybrid boats in the market."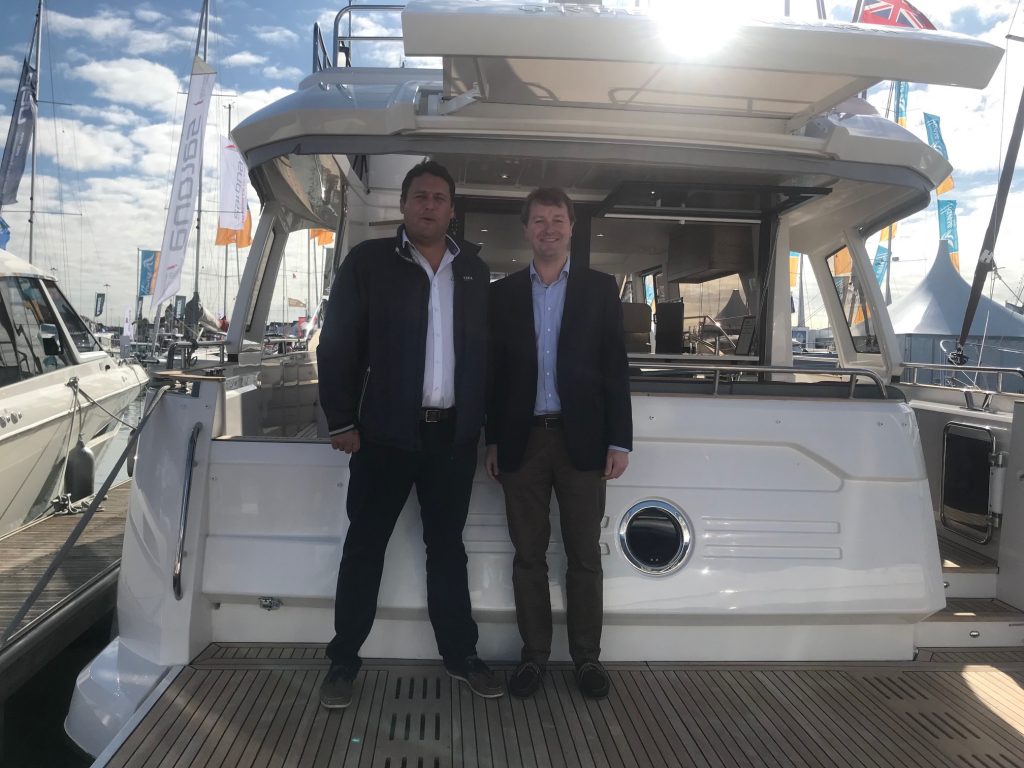 2020 Vendee Globe competitor Pip Hare
Tony Pauffley chatted with 2020 Vendee Globe competitor Pip Hare. The successful sailor and marine journalist, who hails from Poole in Dorset, will be lining up in November 2020, along with 30 international skippers to single-handedly race her 60ft boat around the world, non-stop. The gruelling 24,000 mile race will see Pip competing against some of the world's most elite offshore racers and contending with some of the earth's most hostile environments. The course record for the race, which first took place in 1989, is 78 days. In 2001 Dame Ellen MacArthur came second in 94 days but no Brit has ever won the title, with fewer than 100 international skippers ever having completed the race.
Pip gave Tony a tour of her boat, during which he was able to view the living space and cramped conditions on board. Pip was keen to raise awareness of her campaign and said, "I am one of only 2 British based competitors for the 2020 Vendee Globe race. Awareness around my campaign is key as I am still seeking a headline sponsor. I am urging people to get involved in my story – to follow it and share it! I have created a business syndicate with many Poole based companies coming on board. I'm keen to build a community around the boat in Poole and celebrate that the boat and campaign is based in Poole." Anyone interested in joining the business syndicate is urged to contact Pip www.piphareoceanracing.com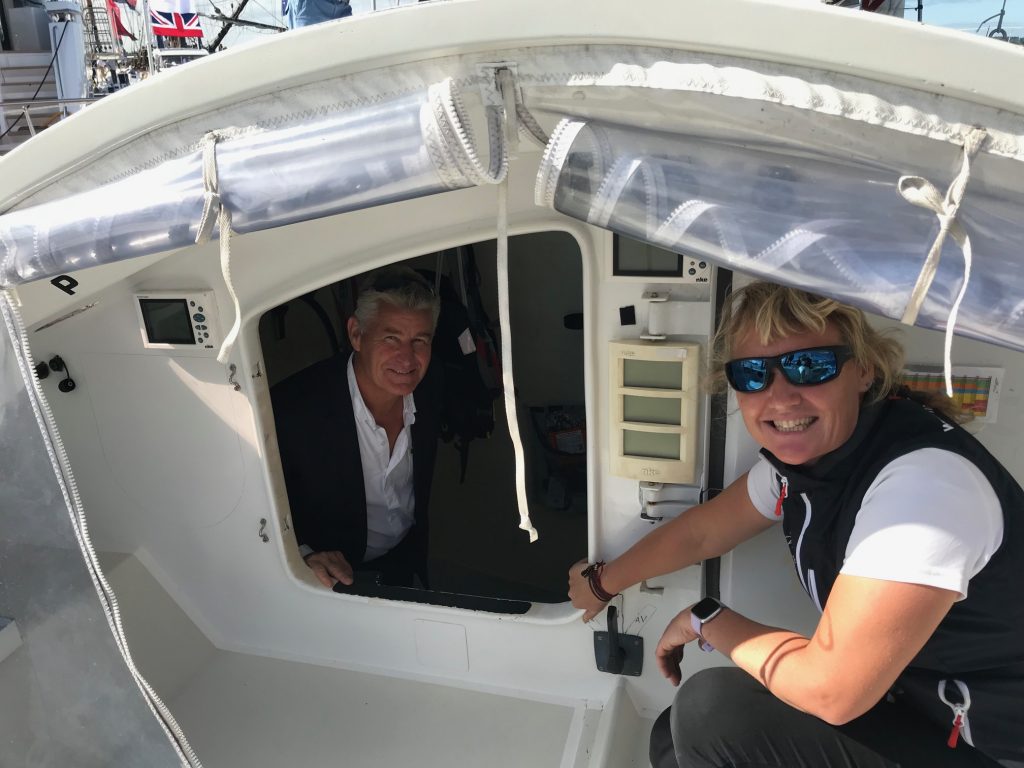 Catching up with industry colleagues
There were lots of opportunities to meet and chat with industry colleagues. (Insert pic of Rav The Yacht Market, Tony and Adam Tahir S/S)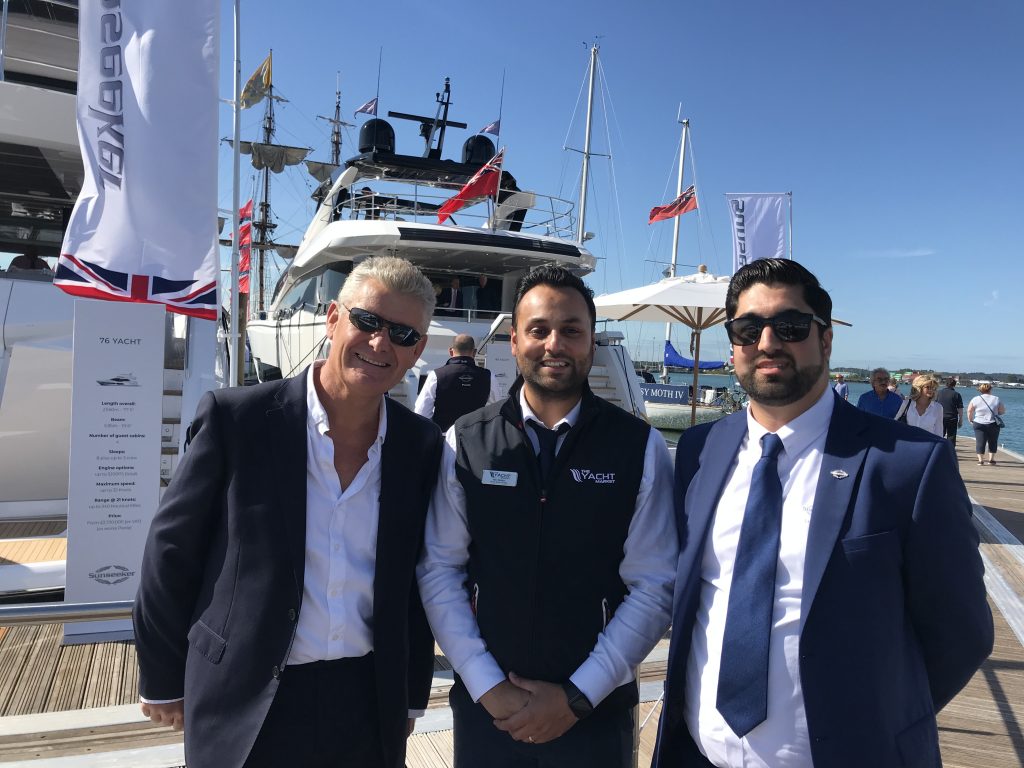 Sunseeker showcase Predator 60 Evo and Hawk 38
Sunseeker launched the opening of their Show stand with a presentation by Sales Director Sean Robertson and CEO Andrea Frabetti. There was a world premier of the Predator 60 Evo which marks the start of a run of 22 new models that Sunseeker has committed to building over the next 3 years. There was also a show premier of the Hawk 38 which was described as being the last project that Sunseeker founder Robert Braithwaite was directly involved in. Sean Robertson advised, "The Hawk, with 800 Horsepower, has the ability to maintain incredible speeds in the roughest of waters – it is a real tribute to Robert Braithwaite." Sean urged visitors to, "Trial it and you are guaranteed to come back with a smile on your face!"
Gibbs Quay boat sales
Poole based Gibbs Quay Boat Sales had an impressive presence at the Boat Show. Gary Piercey GM commented, "We have brought 14 boats to display, ranging from £25,000 – £500,000. Obviously our expectations are to sell at the show. Each year can be significantly different, in terms of sales achieved, however. We've got a wide range of producers and try and fit most peoples needs in the sports boat market. We have some great European brands which we are extremely proud of. We are particularly promoting the GrandEzza, which is made in Finland. The GrandEzza are high end Scandinavian quality and the build spec is incredibly high."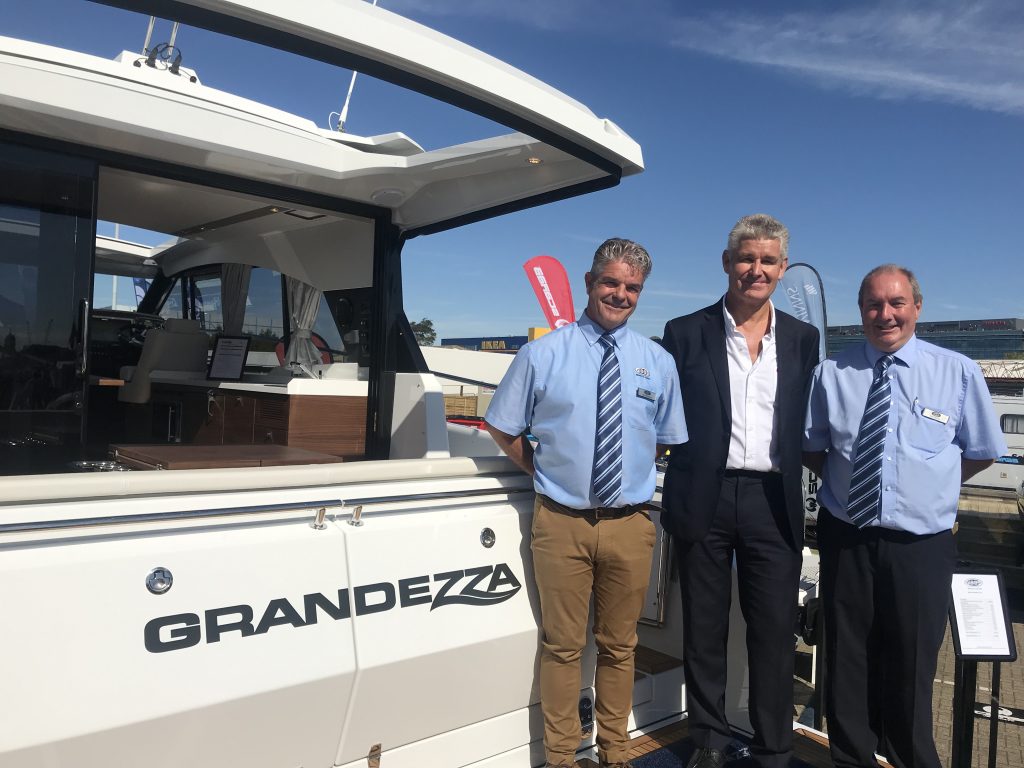 Princess showcasing 4 new boats
Tony took time to chat with Russell Currie, Dealer Principal for Princess Puerto Pollenca who enthused, "The Southampton Boat Show is extremely important for our client base. It is one of several boat shows that Princess display very well at and use to launch and showcase new products. At Southampton we are showcasing 4 new boats:
V55 – this is so important for our market. The layout and specification and size has traditionally been a very good seller for our region. It's a classically successful Mediterranean open cruiser. We are also showcasing the Y78, S62 and S66. We expect to make sales over the coming days. The clients that we are expecting throughout the week have all been qualified as high potential to turn into sales. Also, especially with good weather, it attracts new buyers. It's also an important show for starting new relationships."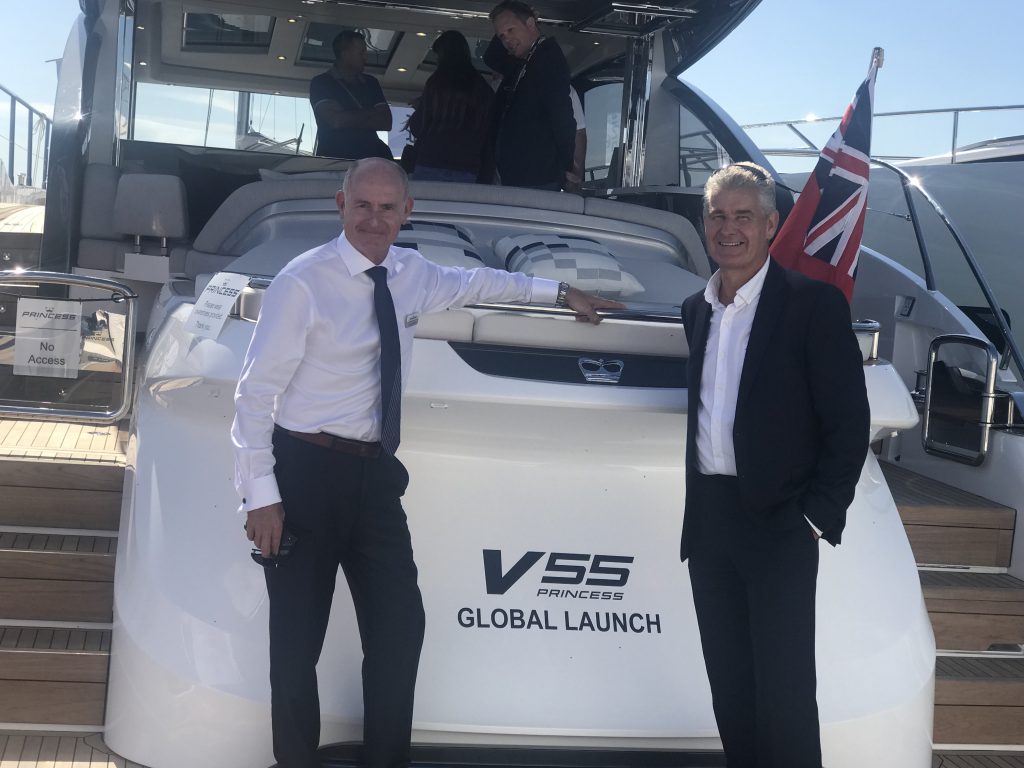 Coleman Insurance sponsor Salterns Marina champagne reception
Coleman sponsored the Salterns Marina Champagne reception lunch, which was being hosted for their marina berth holders. Nick Smith, MD at Salterns Marina said, "We have provided a coach for our customers and berth holders to travel to Southampton with us today in order to have a great fun day out and celebrate being at the show. It's a good way for us to show that we appreciate our clients. We are hugely grateful that Coleman have sponsored the lunch time event, there's been lots of good conversation, lovely nibbles and of course champagne!"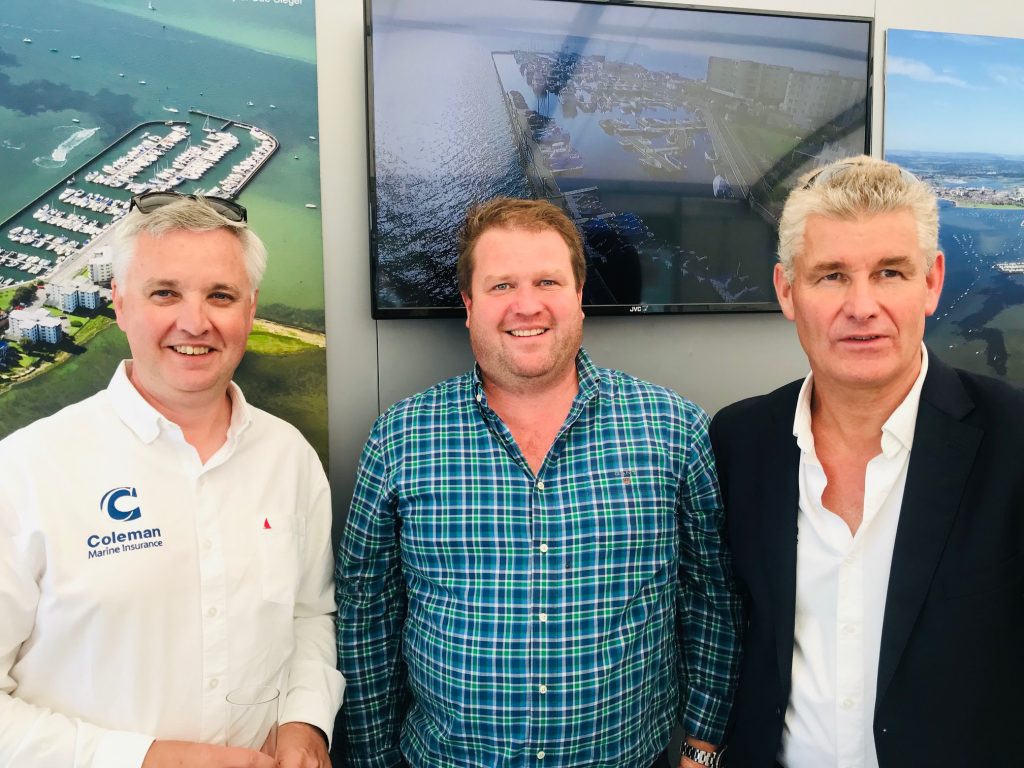 Rugby pundit David Flatman shares enjoyment of Ribeye boats
We were delighted to catch up with former England international and rugby pundit, David Flatman. He took the time to chat to us about his imminent trip to Japan to report on the Rugby World Cup but told us how he was determined not to miss out on the Southampton Boat Show before he went. He shared his love and passion for Ribeye Boats, for which he is a brand ambassador and lamented about the A Series 811, for which he described the design detail as "phenomenal and endless. My kids love it too!"
www.colemanmarine.co.uk